Hello readers! I apologize for holding up my part 2 Top 10 Yugioh Cards list. I have been sick with a fever for the past week. Anyways here is the second half of my list:
5.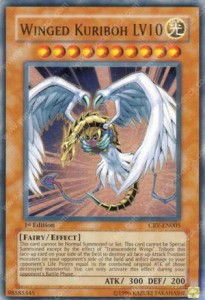 Winged Kuriboh LV10 looks like one of the cutest monsters in Yugioh right? Wrong. If you don't defend yourself Winged Kuriboh LV10 will slash your life points to bits. Its stats are weak but its effect is stellar. You can sacrifice it to destroy all monsters on your opponent's side of the field. Not only is your foe wide open for a direct attack, but they also lose life points equal to the attack of the monsters destroyed. This can be a devastating combo with Lava Golem
4.
This monster just had to be on the list. Blue Eyes Shining is the ultimate monster in terms of defense. It can't be targeted by spell, traps, monster effects, and there is hardly any monster that destroy it by battle. Plus it is not so hard to summon. The duelist has to sacrifice a Blue Eyes U. Dragon You just have to acquire three Blue Eyes W. Dragons, a Blue Eyes U. Dragon and Future Fusion. This monster is unbeatable and can easily be played. That is why it is highly ranked.
3.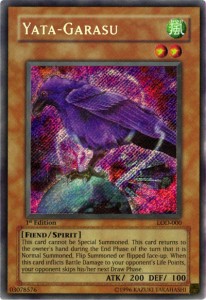 It might seem weak and it is. Yata-Garasu is actually a glitch card. When it was first released, creators did not realize that with the creation of Yata-Garasu they also created the deadly Yata-Lock. Yata-Garsu's effect is that when he inflicts damage to the opponent, him/her has to skip their draw phase. However if you find a way to rid your foe of their hand and attack with Yata, they have been Yata-Locked. This means that your foe cannot play any cards, they can't draw, which means they will be wide open for attack. Once you continuously do this, you win.
2.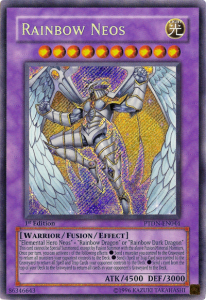 Rainbow Neos is the strongest of the Elemental Heroes and he's stronger then all the monsters in the game! Not only does he have uber strong stats, his effects is what makes him so deadly! Once per turn you can discard one monster you control and return one monster your opponent controls. This could leave your foe wide open 4500 direct attack! This also works with spells and traps. You can rid your foe's graveyard with Rainbow Neos' ability as well.
You have now read 9 of the monsters. My next post will be on the #1 monster and its effects/ combos. See you then!