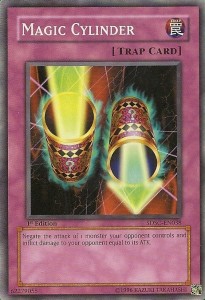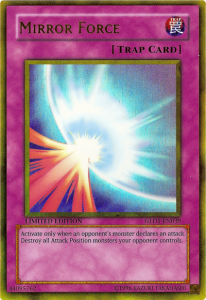 Usually, when people are thinking of a strategy to defeat their opponent in a pressure situation, their ideas revolve around summoning a super strong. Yes that is a basic strategy and it works (occasionally) but have you ever thought about this? What if summoning that monster is incredibly hard? What happens then? Duelists now a days are making winning to complicated by focusing on thier monsters. The key way of defeating an opponent is by using trap cards. Not only are they easy to play, hardly any trap cards have any restrictions or certain ways to play them. They are easy to use and many trap cards have clutch effects.
When I think of trap cards I think of cards that inflict damage to your foe while protecting yourself. That is why Magic Cylander is my favorite trap card. It is simple old-school card, and it can really help you in clutch situations. Magic Cylinder is a deadly card that negates your opponents attack and inflicts damage equal to the attack of the attacking monster. This is a must of card to any decks because it provides major defense when you have useless cards in your hand.
The other trap card I really like is Mirror Force/Dark Mirror Force. While they don't destroy the attacking monster(s), Mirror Force destroys all attack position monsters on your opponent's side of the field and Dark Mirror Force destroys all defense position monsters on your opponents side of the field. So if they are both played as a chain, they work like a Raigeki card.
Both of these cards are very effective in ANY deck. Samething with Negate Attack or Compulsory Evacuation Device. Whether you have a Warrior deck or are testing deck, these are some cards you would absolutley want on your deck because they can save you from close situtaions and make your opponent pay for falling to one of these traps. This is why trap cards are THE most important aspect of dueling.