I don't think I will have any objections in this choice, the number one Yugioh Elemental Hero is… Elemental Hero Divine Neos!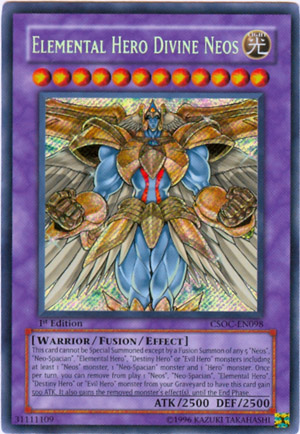 Sure, it might not be your best monster in terms of stats, but it has one of the, if not, the best effect out of all the Elemental Heroes! To play Divine Neos, you must fuse together at least one Neos monster, a Neo spacian, and an Elemental Hero, as well as two other monsters (can only be an Evil Hero, a Destiny Hero, a Elemental Hero, a Neo Spacian, or Elemental Hero Neos). Okay, okay, it sounds hard to play doesn't it? However, summoning Elemental Hero Divine Neos is worth it.
While Divine Neos is on the field, you can remove from your graveyard one Evil, Destiny, Elemental Heroes, a Neos monster, or a Neo Spacian monster. Elemental Hero Divine Neos gains 500 attack AND that monsters ability. That is crazy. You can remove from play one of those awesomee monsters, and Divine Neos would be amazing! You could give Divine Neos Magma Neos's effect and it would gain 400 attack points for every card one the field, or you could give Divine Neos Destiny Hero Dogma's effect and half your opponent's life points the next turn! Possibilities, possiblities! This is what makes Elemental Hero Divine Neos, hands down, the strongest Elemental Hero!