I gave a list of the top 5 Elemental Heroes in Yugioh about a month ago. That topic became pretty popular so I thought I would make a list of the top 5 Destiny Heroes in Yugioh! Hope you like the list!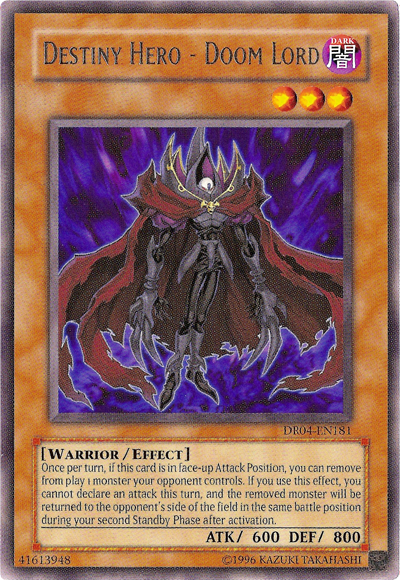 5. Destiny Hero Doom Lord
Okay, it's pretty weak in terms of stats, but Doom Lord has an effect that can come in pretty handy. Once per turn, for two turns, he can remove one monster from your foe's side of the field, out of play. Even though the monster comes back in two turns, you still have to form a counterattack against it. What if you were facing a Yubel, or an Armityle? You can't beat those monsters with battle, but you still can save yourself with Destiny  Hero Doom Lord. His effect is very effective and helpful, especially when your facing a deadly monster!
4. Destiny Hero Defender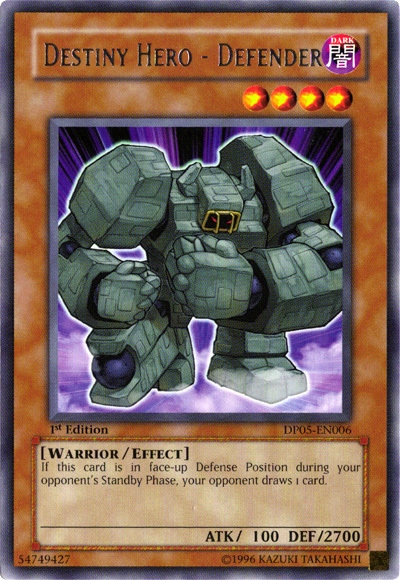 This is a monster card that everyone should have in their deck, especially if you have Shield and Sword. First of all, it brings tons of defense to your side of the field. It would be very difficult for your opponent to destroy it by battle, so they can't hope to launch a direct attack. Second, if you want to go to a more offensive approach, simply play a Shield and Sword spell, and you have a monster with 2700 attack points, just like that! Think of all the damage Destiny Hero Defender do! And, it is even better if used with Canyon, DNAÂ Surgery, and/or Cross Counter. When your opponent attacks Defender (in set position) with, lets say, a monster with 1800 attack points, they won't be expecting to see a monster with 2700 defense points! 2700-1800 is 900 life points. 900 multiplied by 4 is 3600! You'd be dealing your foe 3600 life points just by that combo! Destiny Hero Defender can be useful in so many ways.