I hope you guys liked my choices for the #5 and #4 Destiny Heroes. Before I list my #3 and #2 top Destiny Heroes, I would just like to say Diamond Dude will not be there. Destiny Hero Diamond Dude has a mediocre effect, which heavily relies on luck. You can check the top card of your deck, and if that card is a normal spell card, you can activate it during your next turn. First of all, there is a low percent chance you'll draw a spell, and an even lower chance you'll draw a non-normal spell card. So no way will  Diamond Dude be on this list.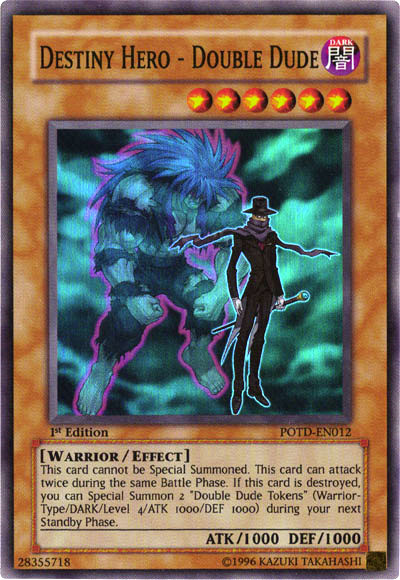 3. Destiny Hero Double Dude
Destiny Hero Double Dude is a very basic Yugioh card, however, both its effects can be helpful in several ways. Though it only has 1000 attack points, Double Dude can attack twice, so in a direct attack opportunity, it's like having a monster with 2000 attack points on the field. You can use this ability to your advantage. You can equip an Axe of Despair or a Megamorph to double his attack points. Now, he has 2000 attack points. Not only can he attack twice, he has a big amount of attack points and if he attacks your foe directly, they can lose 4000 worth of life points. Also, of Destiny Hero Double Dude leaves two tokens behind when he gets destroyed. Though they each have 1000 attack and defense points, they are easy tributes for monsters like Destiny Hero Dreadmaster, Destiny Hero Plasma, or even Destiny Hero Dogma. Now Destiny Hero Double Dude is a great card and has won me a lot of duels.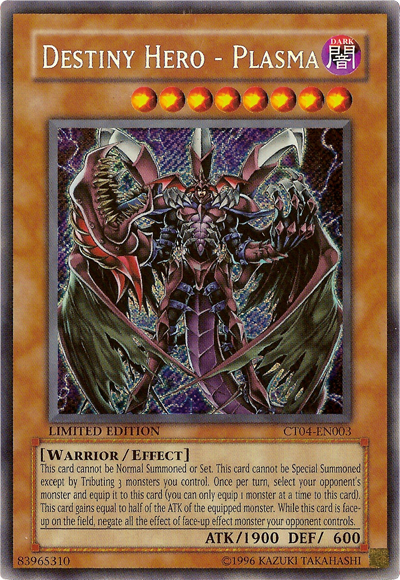 2. Destiny Hero Plasma
Not only is he one of the greatest Destiny Heroes ever, I think Destiny Hero Plasma is one of the greatest monsters to ever be created in Yugioh! Though it may be difficult to summon, Destiny Hero Plasma reeks havoc among your foe(s). It can equip itself with one your foes monsters and gain half of the monster's attack points! Not only could Destiny Hero Plasma take out one of your foe's strong monster's, it can use the monster's strength to its own advantage! Destiny Hero Plasma can also negate the effects of your foe's face up monsters. This can come handy when your dealing with cards like Sniper Hunter, Armityle, or even the deadly Reptilian Naga. Destiny Hero Plasma would be tremendously helpful in any deck.