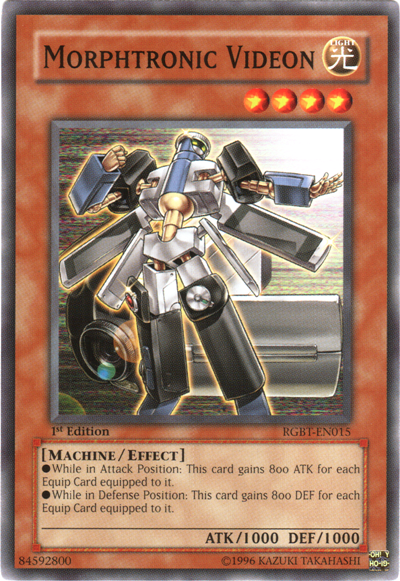 Recently, I received a comment by one of my readers, asking me to talk about Morphtronic monsters. From what I know, Morphtronic monsters aren't an archetype that are popularly used in duels or are mainstream. They are used by a supporting character on Yugioh 5Ds, Leo, and therefore haven't had that much of the limelight on them. However, after reading about Morphtronic monsters on Yugioh wiki, I was strongly impressed by there abilities.
Morphtronic monsters have a unique characteristic; their effects are based off their battle positions. Most of their effects benefit other Morphtronics, for example, the effects of Morphtronic Radion and one of the effects of Morphtronic Scopen. That trait that Morphtronics have can lead to A LOT of strategies and offensive maneuvers. I devised a nice little team combo with the Morphtronics: (You must have Morphtronic Radion in your graveyard) Play Morphtronic Videon. Equip it with a Double Tool C&D (an essential spell for a Morphtronic deck). Videon has 2800 attack points and since Videon's equipped with Double Tool C&D, it's going to be your opponent's only attack target. . Next, play Junk Box, and special summon Morhtronic Radion. Videon now has 3600 attack points.
The main monster of the combo that I listed above, Morphtronic Videon, is one of my favorite Morphtronics. It gains 800 attack points for every equip card on it. Think about if it had an Axe of Despair equipped or a Double Tool C&D, Morphtronic Videon would then have 2800 attack points just like that. I think it can be one of the most destructive monsters and would go great with any Morphtronic deck.
Along with Morphtronic Videon, Power Tool Dragon is also a must for a Morphtronic, and not because Leo has it in his deck. You see, Power Tool Dragon has an effect where you can put an equip card from your deck to your hand. In a Morphtronic deck, you should always have an equip card in your hand. Many of the effects of the Morphtronics revolve around equip cards. Not only do (most) equip cards increase a monster's stats, in the case of the Morphtronics (like Videon) just having an equip card on them benefits them; whether that's in stat gain or protection. Also, Power Tool Dragon brings a strength aspect to a Morphtronic deck as well.
Morphtronics are a very powerful and interesting archetype. I think that they are very underestimated and if one spends enough time on it, they could make a very deadly deck out of Morphtronics. Morphtronic Monsters are in the Cross Roads of Chaos, Crimson Crisis, and Raging Battle booster packs.