I have been posting a lot of stuff about cards to have in a deck, lots of top tens, and many posts about monsters in varying archetypes. I recently got a comment from nader, requesting I write a post about the top 10 monsters who are easy to summon (through their own capabilities), and have strong effects. I could quickly think of some names. So I decided to go with the idea, and I came up with this list! I hope you guys like part 1 of the list!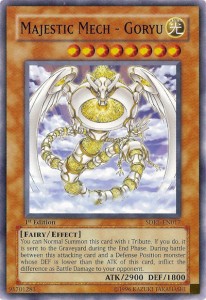 15. Majestic Mech Goryu
Majestic Mech may be a level eight monster, however you can summon him with only tribute instead of two. Though it will be destroyed on your end phase if you summon it this way, Majestic Mech's ability ensured it a place on this list. Even though it'll only last you a turn, Majestic Mech can be used to deal penetration damage on your opponent for its effect is that when it battles with a monster that has lower defense than Majestic Mech's attack, you can deal damage equal to the difference to your foe. Because Goryu has such a high attack power, that could be a game changing amount of damage. Plus, it's great for dealing direct even for a turn. All of this for merely one tribute. Sweet
14. Freed the Brave Wanderer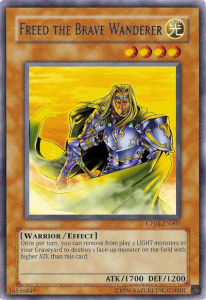 Freed is a great way to obliterate your opponent's monster defenses. All you have to do is to remove from play to light monsters from you graveyard, and you can destroy one monster on the field. The most abundant monster attributes in the game is dark, and after that, light. So, you should have no trouble using his effect. Freed is a four-star monster, making him easy to play. (Tip: Would be great in a fairy deck)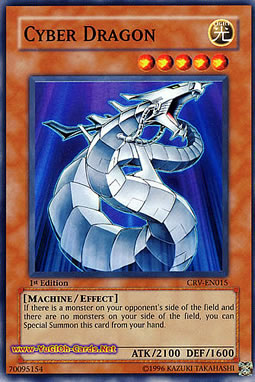 13. Cyber Dragon
Cyber Dragon is such an easy monster to special summon. As long as you don't have any monsters on your side of the field and your foe does, it can easily be played. Cyber Dragon can then be used as tribute for stronger monsters or as another for you to directly attack your opponent with! With 2100 attack points, it can be dangerous powerhouse yet it's still simple to summon.

12. Fenrir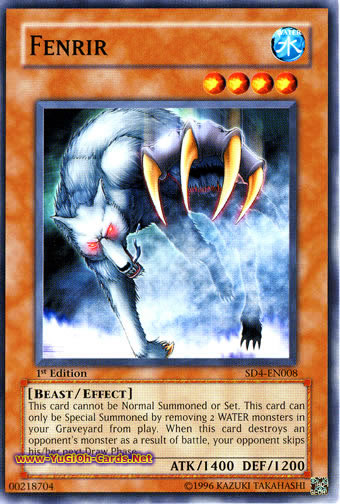 I wouldn't say Fenrir is as easy to play as the my previous listings, but it isn't impossible to play either. If you have a sea-serpent, fish, or aqua deck, Fenrir would be a great addition and it's effect would be easy to facilitate. Fenrir can't be played unless you remove two water monsters from play (not hard if your using one of the three type of decks listed above). All it has to do is destroy one of your opponent's monsters and they skip their draw phase. It might not be as good as Yata, but Fenrir can still allow you to achieve a "Fenrir-lock" which is a broken maneuver all by itself. Therefore Fenrir has to come in this list.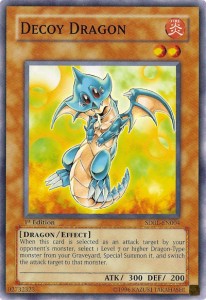 11. Decoy Dragon
Though it's only useful in dragon decks, Decoy Dragon is still a very helpful monster. First of all, it's a level two monster meaning it doesn't require a tribute to summon. Second, its effect is an easy way to special dragon type monsters. When Decoy Dragon is attacked, the controller can special summon a special summon a level seven or higher monster to your side of the field and switch the target to the special summoned monster. Not only is Decoy Dragon easy to play and has a strong effect, it makes summoning powerful dragons very easy as well.