Here is part two of the list: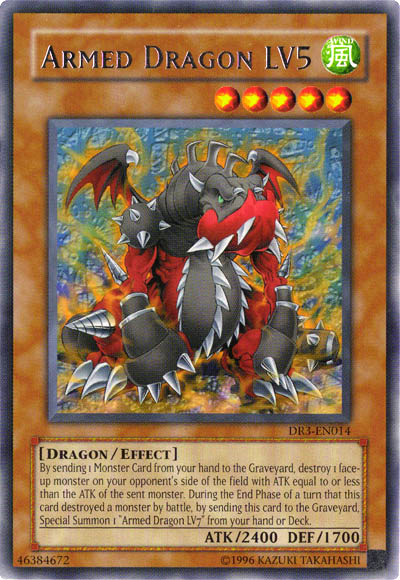 10. Armed Dragon LV5
Armed Dragon is a fabulous card to have in any deck, as long you have Armed Dragon LV3 that is. Compared to its LV7 and LV10, Lv5 may lack in power however simple summoning capabilities make it the best one of the four. All you have to do to summon Armed Dragon LV5 is tribute one monster from your side of the field, or you can tribute A.D. LV3 to special summon LV5 from your deck. As long as you discard a monster with higher attack points than the target, Armed Dragon LV5 can basically destroy any monster your foe has. Plus with its 2400 attack points, Armed Dragon LV5 could clear the field and inflict lots of direct damage to your opponent.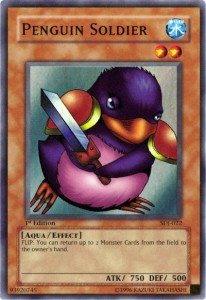 9. Penguin Soldier
The adorable and cute-looking Penguin Soldier can be a major threat to your opponent. In fact, whenever I play my Yugioh: 7 Trials to Glory video game, I am so paranoid in attacking face-down monsters because I assume that it could be a Penguin Soldier! When Penguin Soldier is flipped, you can return up to two monster cards on the field to the owner's hand. Penguin Soldier could clear your foe's field for you to directly attack them. It is such an efficient and easy-to-summon monster.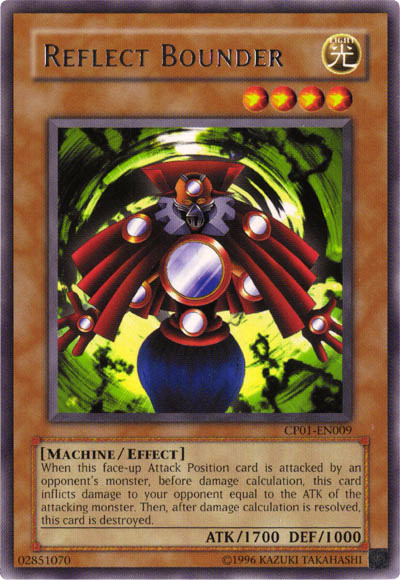 8. Reflect Bounder
Reflect Bounder is the monster entity of Magic Cylinder. Not only is it a level four monster (therefore easy to play) but its effect is like a trap card. When attacked, Reflect Bounder "reflects" damage equal to the attack of the attacking monster right back to the opponent. Though Reflect Bounder is destroyed right after using its effect, it can still be a duel-changer. You can think of it like a Magic Cylinder, for its effect is very similar. Plus, with 1700 attack points, Reflect Bounder is also decent in the defensive side as well. A great monster that meshes with any deck.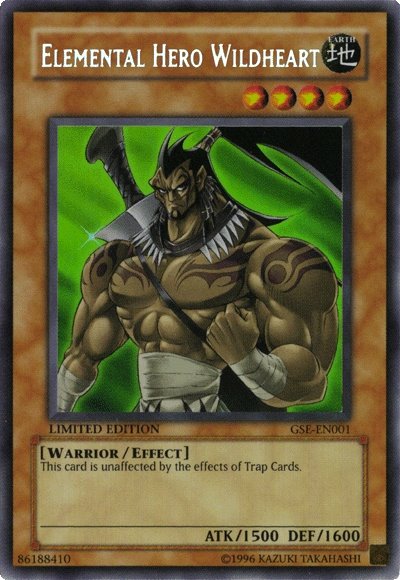 7. Elemental Hero Wildheart
Besides Penguin Soldier, Elemental Hero Wildheart is my favorite monster in Yugioh and for one reason only: it cannot be affected by trap cards. Yep, it can't be affected, not targeted, affected. If your foe plays a Draining Shield on you or Torrential Tribute, whoops! Elemental Hero Wildheart takes no effect from the traps. Your opponent can only destroy Wildhear by spells (quick spells if it's your turn), monster effects, or by battle. Let's face it, monsters are 90% of the time destroyed by traps or by battle. If you equip an Axe of Despair or Malevolent Nuzzler to Wildheart, it'll be virtually indestructible with 2500/2300 attack points. As soon as a monster is immune to traps, it takes a lot of time to destroy it. That's why Wildheart, who is one of the few monsters (or the only one) with this ability, is so strong, it had to be high on the list.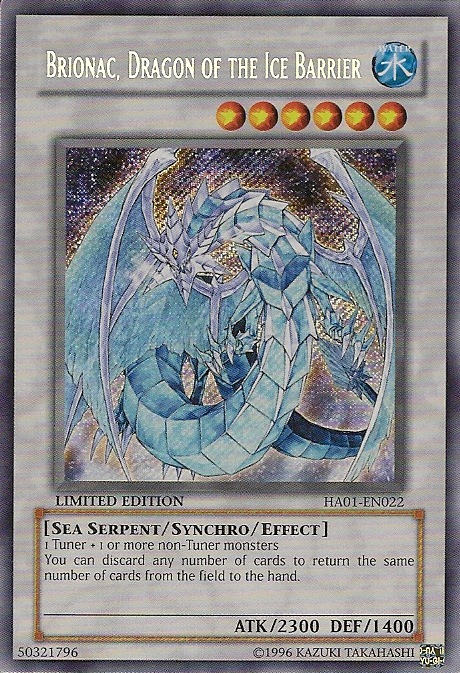 6. Brionac Dragon of the Ice Barrier
Imagine a monster equivalent to a bunch of Penguin Soldiers, the result is Brionac. First of all, Brionac is a synchro monster which means you can either just synchro summon him (which is a simple process) or revive him from the graveyard with a Monster Reborn or a Premature Burial. Brionac has 2300 attack points, making him a strong monster in terms of stats, however I love Brionac because it can basically clear your opponent's field; literally. You can discard any number of cards to the graveyard to return the same amount of cards on the field to the respective owner's hand. Plus, you can activate this effect during your foe's turn as well. He can make the field wide open basically EVERY TURN for direct attacks. What a beast.