In a recent comment, I received a very interesting idea from nader. He proposed that I should have "Card of the Week" post every week. Because booster packs aren't released every week, I decided that the card of the week would be card that really helped me out in a duel (real or in a game), Â a card that rose in popularity, or a card that I was introduced to. Then, every month, you all can vote on which card you think is the best, and that card will win the "Card of the Month" award. I would like to thank nader for this idea because I think it is a great addition to this site!
Card of the week 6/3/10: Cosmic Fortress Gol'gar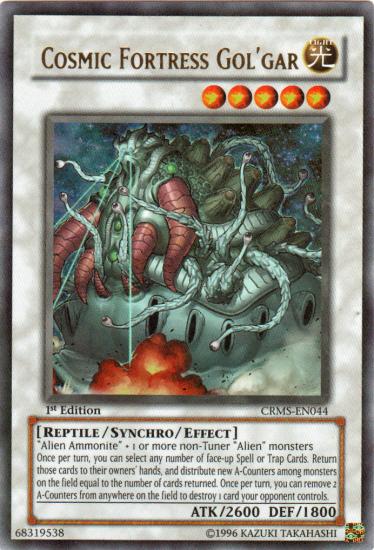 I had never even heard of Cosmic Fortress Gol'gar until a week ago. I had found it while looking at the character list for Yugioh World Championships 2010: Reverse of Arcadia. Cosmic Fortress Gol'gar not only possesses deadly stats (2600 attack points and 1800 defense points) but it is also a great defensive monster as well. It can return unlimited amounts of spell and trap cards on the field (up to ten of course) and distribute A-Counters to an amount of monsters equal to the amount of spell and trap cards returned to the controller's hand. His effect is not only a great way to weaken strong monsters through A-Counters (facilitated by the effects of other "Alien" monsters) but it can also rid your foe of spells and traps. The 0nly catch with CFG is that if you return too many spell and trap cards, then you have distribute A-Counters to your own monsters as well. If you're not using an Alien deck that's okay, however if you are than that could be bad. Still, Cosmic Fortress Gol'gar is truly a great monster and I am glad that I was introduced to it.
Read more about Yugioh Alien Monsters.