Card of the week 7/9/10: Mist Wurm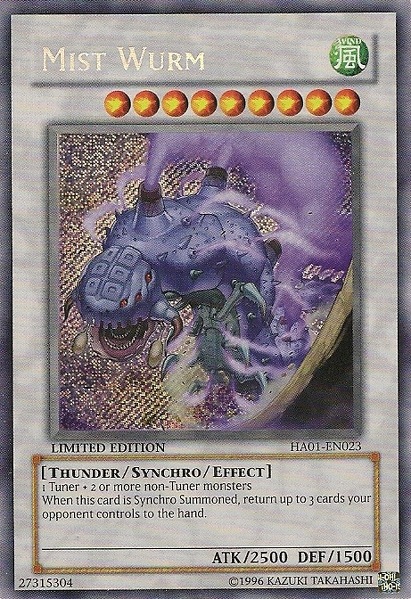 My first meeting with a Mist Wurm card was pretty hilarious! Towards the end of my trip to Nepal, my parents and I visited a common goods store to buy some items. In the store, there was a games section as well and it was stocked with merchandise of games like Beyblade, Pokemon, and even Yugioh! There was a special Yusei tin pack in the Yugioh section, and guess what the cover card was? Mist Wurm. However, it wasn't just any Mist Wurm, it was a poorly made, fake version of the card. The Yugioh sticker at the bottom-right of the card was badly places, the title was in the wrong font, and even the holographic image looked more rough than bright. Though I was bummed out that I lost a chance to acquire a fierce synchro monster, that moment really made my day! Thus, I decided Mist Wurm should be my card of the week.
Mist Wurm is one of the most formidable and rare Yugio synchro monsters around. Though it could be a bit of a hassle to summon due to needing two non-tuner monsters, its stats and effect makes up for it. Not only does Mist Wurm have a dominating 2500 attack points, it also has a solid effect. When it is synchro summoned, you can return up to three cards your opponent controls. That basically guarantees a direct attack opportunity.