Well, today will be the last and final Card of the Week post, for come August, I will write a weekly Monster Card Comparison. That post will compare two different monsters and judge which monster is better based on stats, effects, usefulness, artwork, etc… Anyways, the last card of the week is card that I found in my locker during high school orientation this week. It was pretty funny that someone would put something in my locker before school even began, but what was funnier was that it was such an awesome card!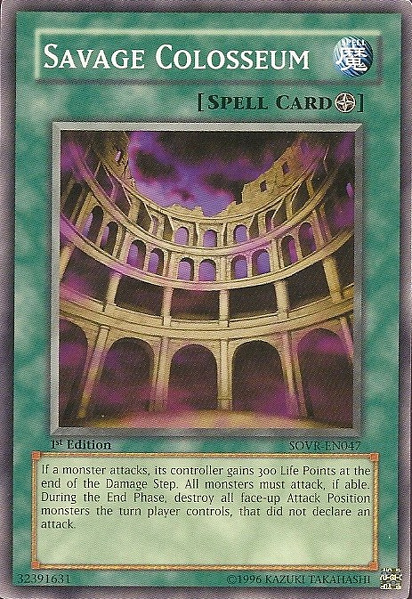 Card of the Week 7/30/10: Savage Colosseum
Savage Colosseum is one of those cards that you have to be extremely careful when using, but if used right, can be dangerous for your opponent. Magical Colosseum is a field spell that requires every monster (who is able) on the turn player's side of the field, to attack. If a monster doesn't attack (by remaining in defense position, Block Attack, etc…) This card is a great to destroy tuners and other weak/crucial monsters. On top of that, the controller gets 300 life points if a monster attacked. Savage Colosseum is a really big help when you're losing for it has the capability to turn the tides. Â The only weakness Savage Colosseum has is that it is pretty useless when dueling a high level, beatdown deck…
Well that wraps up the final card of the week for July and the last card of the week post for this blog. However, you can still vote for who you think should win the card of the month award: Savage Colosseum, Dark Creator, or Mist Wurm!