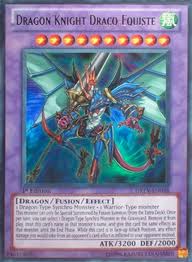 1. Dragon Knight Draco-Equiste
The fusion of a dragon synchro monster and a warrior monster, DKDE is one of Yussei's most dangerous and deadly monsters. Not only does it have a whopping 3200 attack points, but its effect can pose as a major threat to your opponent as well. Once per turn DKDE can takes effect of a synchro dragon monster in your graveyard. If you use a good dragon deck with powerful dragon synchros, then this effect is very handy! Suppose you have a Black-Winged Dragon in your graveyard, then DKDE gains Black-Winged Dragon's ability and create a possible OTK! If DKDE is used in a powerful dragon deck, it can become one of the trickiest monsters to defeat.
Artwork: 10/10,  Effect: 8/10, Deck Adaptation: 2/10, Power: 10/10, Game Changer: 10/10, Playability: 4/10. DKDE gets an overall rating of a 4.4/5, or a B+ (note that fusion will get get lower scores then other monsters as they are more difficult to bring out and they cannot mesh as easily in random decks as normal, ritual, effect, or synchro monsters can. Thus, I always half the denominator when calculating a monster's overall factor).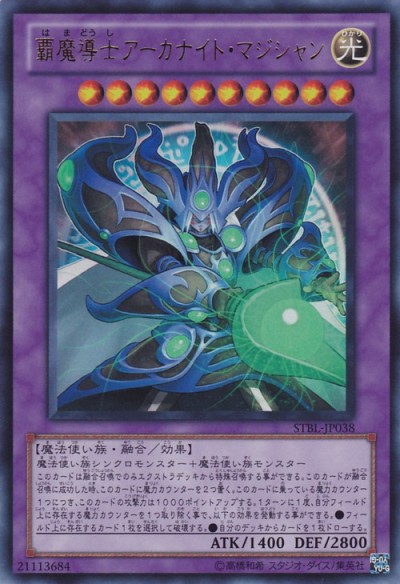 2. Arcanite Magician, the Supreme Wizard
Though the Supreme Wizard isn't released until Starstrike Blast, I thought it would be fun to compare it with DKDE (as they are both immensely strong fusion monsters). The Supreme Wizard has a decent attack (1400) and great defense (2800). However, through its effect Supreme Wizard can gain two thousand more attack points. When the Supreme Wizard is summoned, it receives two spell counters and gains 1000 attack points were each counter. In addition to that effect, once per turn the Supreme Wizard can remove one counter from play and destroy a card on the field/ or draw a card! It would be the trump monster in any spell counter deck!
Artwork: 8/10, Effect: 9/10, Deck Adaptation: 2/10, Power: 10/10, Game Changer: 9/10, Playability: 4/10. Overall, Arcane Magician, the Supreme Wizard gets a rating of 4.2/5 – B. Which means our winner for the day is DKDE!