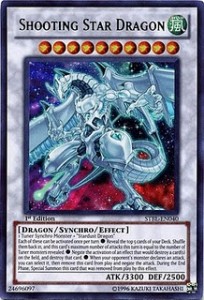 The most striking thing about the upcoming booster Starstrike Blast (get it?) is not that the fact that it introduces more support for the new archetypes or more sycnhro-fusions. You see, with Starstrike Blast also comes the Cosmic Synchros, synchros who are summoned by tuning a lesser synchro with another monster. And guess what are the first two Cosmic Synchros duelists will be introduced to: Red Nova Dragon and Shooting Star Dragon, the ultimate forms of Red Dragon Archfiend and Stardust Dragon (respectively). This is why I believe Starstrike Blast will beat out Duelist Genesis and become the highest grossing booster pack in the third generation era.
Shooting Star Dragon is definitely the strongest form of Stardust Dragon, although the same cannot be said for Red Nova Dragon. Shooting Star Dragon has 3300 attack points, 2500 defense points, and three strong effects that can (each) be used once per turn.
Reveal the top 5 cards of your Deck. Shuffle them back in, and this card's maximum number of attacks this turn is equal to the number of Tuner monsters revealed in Deck.
Negate the activation of an effect that would destroy a card(s) on the field, and destroy that card.
When your opponent's monster declares an attack, you can select it, then remove this card from play and negate the attack. During the End Phase, Special Summon this card that was removed from play by this effect.
As you can see, Shooting Star Dragon is a destructive monster and quite possibly the strongest cover monster ever. In the anime, Majestic Star Dragon and Shooting Star Dragon share the role of 'Yusei's signature monster' (although SSD is far better than MSD in real life).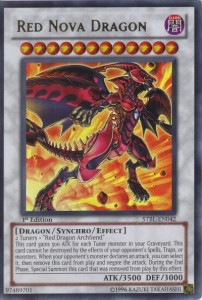 Red Nova Dragon is extremely powerful monster as well. It has 3500 attack points, 3000 defense points, and some wicked effects. RND gains 500 attack points for every tuner in the graveyard (so really, it has 4500 attack points). It can't destroyed by card effects and when your foe declares an attack, you discard RND from the field to negate the attack. However, you can summon it back on to the field at the end phase of that turn! Red Nova Dragon is a fantastic card, but it's not really hands down better than Majestic Red Dragon.
I can't wait to see Starstrike Blast in my nearby Walmart! I haven't a booster pack for quite sometime but this one I definitely have to buy! The chance of being able to acquire a Cosmic Dragon is quite irresistible.