The ultimate battle of the celestial realm; Obelisk the Tormentor VS. The Winged Dragon of Ra! The two cards became so popular (despite being unusable) that they were turned into legal, deadly monsters. They won't be a part of high-tiered decks, but they can still be mighty powerful if played. Which one is the mightiest however? Which God provides the easiest victory? Let us commence the War of Heaven! (Note: Slifer the Sky Dragon has not been released as a legal card, otherwise we would be comparing it as well!).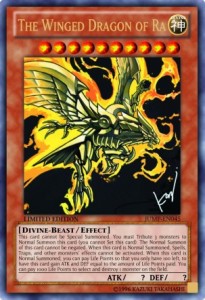 1. Winged Dragon of Ra
The Winged Dragon of Ra is supposed to be the strongest God card in the anime, but in real life that is not the case. You have to pay all your life points up to 100 points and the Winged Dragon of Ra gains attack and defense points equal to the amount you paid. Sure it might become extremely strong, but it's effect will you at a huge risk as well (unless you play a heal deck that is). You can pay 1000 life points to destroy a monster the field (which is pointless if you have already used The Winged Dragon of Ra's first effect). Ra is a cool looking monster and everything, but it's not a card that most decks should have.
Artwork: 9/10, Effect: 3/10, Power: 10/10, Deck Adaptation: 8/10, Game Changer: 5/10, Playability, 7/10. Ra gets an overall score of 7/10 – C-.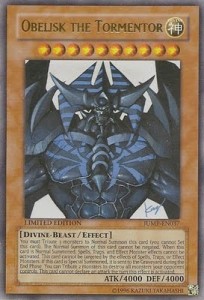 2. Obelisk the Tormentor
Obelisk the Tormentor isn't as dominant in real life than it is in the anime as well. However, it is still a pretty solid monster. Obelisk the Tormentor cannot be targeted by effects and by tributing two monsters, it can destroy all monsters your opponent controls (Obelisk cannot attack this turn). Not as good as its anime effect (gain the combined attack points of the two monsters but still a great effect if you play a swarm deck.
Artwork: 6/10, Effect: 8/10, Â Power: 10/10, Deck Adaptation: 9/10, Game Changer: 9/10, Playability: 7/10. Obelisk gets an overall score of 8.3 – B.
Obelisk is the winner of the battle between the celestial beasts (and for quite obvious reasons)!