I just watched the awesome Yugioh movie Bonds Beyond Time and I really wanted to do a monster card comparison between monsters from two of the characters. I decided to do a comparison on Junk Warrior and Elemental Hero Flame Wingman, two of the most clutch monsters owned by Yusei and Jaden respectively
.
1. Junk Warrior
It's easy to summon, strong, and has a great effect. It's safe to say that Junk Warrior is a cool monster. Not to mention that he was the first card to be created in the 5Ds series! Junk Warrior is one of the best sidekicks a duelist can have with 2300 attack points and 1400 defense points Plus, when it's synchro summoned, Junk Warrior gains attack equal to all the level two and lower monsters you control. A great effect if you need something going for you on offense! I also love Junk Warrior's futuristic design as well!
Artwork: 7/10, Playability: 9/10, Effect: 7/10, Power: 8/10, Deck Adaptation: 10/10, Game Changer: 7/10. Junk Warrior gets an overall score of 8/10 – B-.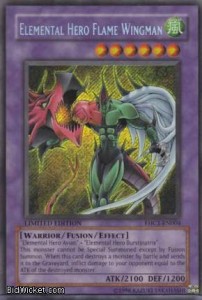 2. Elemental Hero Flame Wingman
Ah, whenever I look at Elemental Hero Flame Wingman, it brings back fond memories of the good old Yugioh GX days. Flame Wingman is another ferocious monster. With 2100 attack points, it not only is a powerful, easy-to-summon fusion monster, but it has a great effect too. Whenever Flame Wingman destroys a monster, your opponent loses life points equal to the destroyed monsters attack points, an effect that can be very clutch in a close duel. Oh, and have you seen it's artwork? Phenomenal.
Artwork: 9/10, Playability: 8/10, Effect: 9/10, Power: 7/10, Deck Adaptation 7/10 (Elemental Hero decks aren't as popular), Â Game Changer: 9/10. Elemental Hero Flame Wingman gets an overall score of 8.2/10.
As much as I like both monsters, Flame Wingman wins this overall battle. However, statistically speaking (Artwork is excluded), Junk Warrior wins 41/50 to Flame Wingman's 40/50.