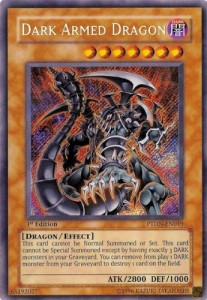 Last month, I decided to create a dark monster deck that revolved around summoning Dark Armed Dragon and The Wicked Avatar. It was a decent deck, but I believed it had the potential to surpass my Infernity-Dark World deck. I knew in order for it to reach its maximum strength, I had to add more dark oriented spells and traps, add more swarm monsters, and replace Rainbow Dark Dragon with another trump card. Last week, after buying five Phantom Darkness booster packs and acquiring a super rare Dark Armed Dragon to be my ace, I received the proper additions to create my ultimate dark deck (obviously, there were a few forbidden cards in the deck, so it is only a deck for leisure duels).
The point of this deck is to quickly bring out Dark Armed Dragon through spells like Graceful Charity and then quickly swarm dark monsters in order to play The Wicked Avatar, then remove the monsters in my grave to summon Rainbow Dark Dragon. Due to The Wicked Avatar's effect, my opponent would not be able to activate any spells or traps for two turns, allowing me to destroy them with my high powered monsters. Monsters like Witch of the Black Forest and Dark Grepher makes this a fast process. If my opponent was able to halt my strategy, I had cards such as Dark Necrophear, Relinquished, and Blast Sphere as back ups. Overall, I'd say this deck is Dark Armed Dragon Burn deck.
The only weakness this deck has is the weak spell and trap support. I don't really need to utilize much spells or traps for my strategies, but it would still be useful if I had some in the scenario that both my plan a and b were halted, in which case I would have to really on my various dark monsters (Dark Crusader, Barrel Dragon). Otherwise though, I think this deck is good enough to take on a lot of decks out there, however, it is strategies like the ones I use in this deck that make many of these cards forbidden!
Do you guys have any suggested improvements I should make on this deck? If so, list them in your comments.