Episode one of Yugioh Zexal featured No.17 Revise Dragon, the first exceed summon in Yugioh history, while episode two featured the second one, No. 39 Aspiring Hope. Though the owner for Aspiring Hope, Yuma, eventually wins the duel, which of the two exceed monsters is the superior?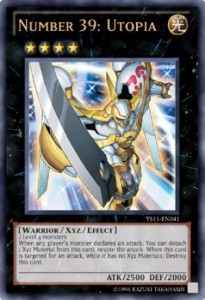 1. No. 39 Aspiring Emperor Hope
I had figured that since this was supposed to be Yuma's key monster, you know the Elemental Hero Neos to Jaden or the Junk Warrior to Yusei, that Aspiring Emperor would be pretty strong. I was wrong. Aspiring Emperor Hope is not terrible, but it's not nearly as good as I expected it to be. Yes it has 2500 attack and 2000 defense points, but an effect that can save the player and destroy him in the same turn! You can remove an exceed material monster from Aspiring Emperor Hope (two) in order to negate an attack. That sounds great right? Except, once the two exceed material monsters have been removed, Aspiring Emperor Hope is destroyed when it is selected as an attack target (which be a by monster weaker then Aspiring Emperor as well).
Artwork: 7/10, Power: 8/10, Playability: 9/10, Deck Adaptation: 10/10, Effect: 5/10, Game Changer: 7/10 (its effect could be used in a pivotal position). Overall, Aspiring Emperor Hope gets a 7.6/10 – C.
2. No. 17 Revise Dragon
I had praised this monster pretty highly when I talked about it a while ago, however I have since changed my mind. It is a sold 2000 attack point monster and its effect, by removing an exceed material monster (two), allows Revise Dragon to gain 500 attack points for each monster removed. However, once Revise Dragon has no more exceed material monsters, it can no longer attack so its effect is pretty useless. Unless you need Revise Dragon for quick life point damage, it is quite useless.
Artwork: 8/10, Power: 7/10, Playability: 8/10, Deck Adaptation: 10/10, Effect: 3/10, Game Changer: 5/10. Revise Dragon gets an overall score of 6.8/10 – D+.
Though both monsters are pretty mediocre, Aspiring Emperor Hope wins.