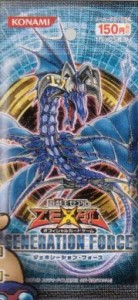 There are lots of reasons to anticipate the arrival of Generation Force, the booster pack that has all duelists talking. There is of course, a new genre of monsters being released, known as Xyz monsters. However, there are several other reasons to be excited about Generation Force. For one, all duelists can relax for synchro monsters are still being manufactured; in fact Generation Force has very powerful syncrhos. Also, Generation Force will introduce several new archetypes and some of them have the potential to be top-tier. Here are three things that I have been the most enthusiastic about regarding the release of Generation Force:
1. Pain Painter – Tuner
Pain Painter is going to be overused in a zombie deck. It is a level two tuner, that's name can be treated as Plaguespreader (allowing it to synchro summon monsters with Plaguespreader Zombie as a requirement). Its strongest effect is this though: it can make two zombie monsters on your side of the field level two monsters. It might seem like a simple effect, but, Pain Painter makes it so much easier to play Archfiend Zombie Skull. With 2500 attack points, AZS is an ace zombie synchro monster that makes sure faceup zombie monsters are not destroyed by card effects!
2. Steelswarm
The Steelswarm archetype has the potential to be one of the strongest archetypes in Yugioh. Steelswarm monsters take advantage of tribute summoning with their swarming capabilities. However, the Steelswarms monsters that are tribute summoned get powerful effects that can devastate opponents. For instance, Steelswarm Caller allows you to special summon a level four or lower Steelswarm monster when you tribute summon one. This swarming effect allows you to quickly tribute summon Steelswarm monsters. They are going to be a mighty deck, especially because they already have a good amount of support cards.
3. Number 39: Utopia
Okay, I love collecting duelists ace monsters (as I already have Dark Magician, Elemental Hero Neos, and Stardust Dragon) and Utopia will be an add-on to the list. Its a powerful monster that can be very easily summoned (have two level four monsters) and it can remove a Xyz material monster to negate an attack. So, it is fairly powerful as well.