I was watching Yugioh GX (I wanted to relieve the old days) and I saw the duel between Jaden with his Elemental Hero deck and Yubel. After watching the duel, it dawned on me: why don't I create a deck that utilizes Elemental Heros AND Yubel? Elemental Heroes are some of the strongest monsters in Yugioh; at one point, an Elemental Hero deck was regarded as the best Yugioh deck. Yubel on the other hand, is a ridiculously powerful monster; it may have 0 attack points, but Yubel cannot be destroyed by battle and you take no damage when Yubel battles. Most importantly, when Yubel is attacked, it inflicts life point damage to your opponent equal to the attack points of the attacking monster. This deck was not the most conventional, but it was very powerful.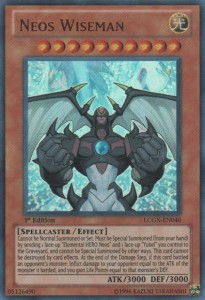 The focus of this strong Yugioh deck is to swarm Elemental Heroes on to the field and play Yubel. The ultimate goal would be to bring out Elemental Hero Neos and contact summon Elemental Hero Neos Wiseman, which is a very strong Yugioh monster. Neos Wiseman has 3000 attack and defense points, it cannot be destroyed by card effects, plus if it attacks a monster, your opponent loses life points equal to the monster's attack points while you gain life points equal to its defense points. In the scenario in which my main weapon is removed, the deck has counter measures: it has Rainbow Dark Dragon, Rainbow Neos, and other Elemental Hero/Neos fusions that can easily be brought out.
While I was making this strong Yugioh deck, I researched a lot online and found that many people hated this deck and felt it did not work. However, I have dueled six times on Yugioh Dueling Network (all against duelists with a rating of 500 or more, which is impressive) and I have lost once. If made right, this fusion between an Elemental Hero deck and a Yubel can be quite fearsome. After all, you are combining the powers of one of the strongest monsters in Yugioh and the strongest archetype in Yugioh!