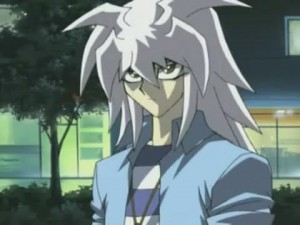 The strongest duelist in Yugioh is none another than… Bakura! I know, a lot of people will argue that Bakura is weaker than some of the duelists I had mentioned in my first and second list. However, if you watched the Egypt arc of the original Yugioh series, then you'd have seen Bakura's amazing power.
Bakura's spirit monster, which was a monster known as Diabound Kernel, was literally undestructable. It took the power of all three Egyptian God cards to stand up to Diabound Kernel, which shows how powerful Bakura's spiritual strength was. In terms of pure dueling, Bakura was shown to be as good as Yugi.
Like Yugi, Bakura is an all-around duelist who relies who gradually overwhelming his opponent. One of his most popular strategies is the Destiny Board tactic, which is an OTK that utilizes the F-I-N-A-L cards. In order to beat Bakura, you have to be able to outsmart him and anticipate his moves.