I received a comment asking me to compare the titular monster characters and judge which card is superior. This is an interesting comparison, considering that Shooting Quasar Dragon is one of the strongest synchro monsters in Yugioh, while Ultimate Ancient Gear Golem is one of the strongest fusion monsters.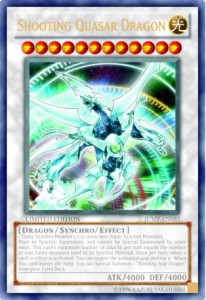 1. Shooting Quasar Dragon
SQD has one of the coolest art designs in Yugioh. Not only does it look like a total boss, try topping SQD in battle, as it has 4000 attack and defense points. SQD's synchro material monsters are one tuner monster and two (or more) non-tuner synchro monsters. The number of times SQD can attack equals the number its non-tuner synchro material monsters. This means that SQD can attack at least two times per turn! On top of that, SQD can take out any threats with its second ability. Once per turn, SQD can negate a card effect and destroy the card. If your foe manages to destroy SQD, it has a helpful back-up effect: you can special summon Shooting Star Dragon from your extra deck! SQD's only downside is that summoning it can be a hard and lengthy process, as it requires three synchro material monsters. Once it is summoned though, SQD can be almost impossible to bring down.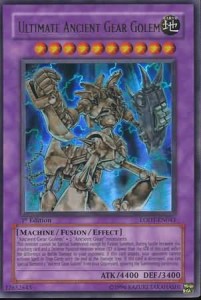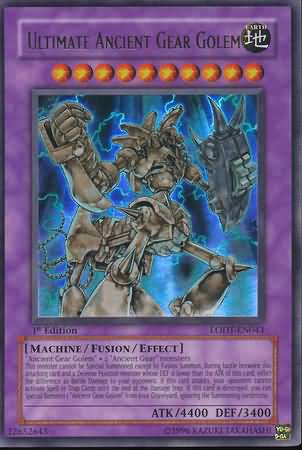 2. Ultimate Ancient Gear Golem 
This was the monster that almost beat Jaden in Yugioh GX, so you know UAGG is a pretty ridiculous monster. For one, it has 4400 attack and 3400 defense points, so you can expect your opponents to be on the defensive when you bring out UAGG. Oh wait, UAGG has a the ability to inflict piercing damage! UAGG clearly has high offensive capabilities, but it also has a good defensive effect. When UAGG attacks, your foe cannot activate spell/trap cards until after the damage step. That's a pretty convenient effect, ensuring that UAGG doesn't get taken out by cards like Sakuretsu Armor or Dimensional Prison. Similar to Shooting Quassar Dragon, UAGG has a nice backup effect: if it get's destroyed, you can special summon Ancient Gear Golem from your deck.
This is a very tough decision, but I believe that Ultimate Ancient Gear Golem is the superior monster. Both monsters obviously have great stats and effects. However, it is much easier to summon UAGG than SQD, considering that cards such as King of the Swamp can ease the fusion conditions. They are both great monsters, but Ultimate Ancient Gear Golem wins this battle.