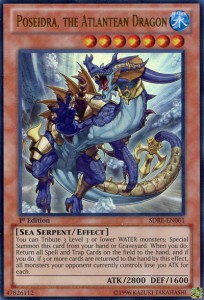 These days water monsters have become totally neglected. With the exception of the nifty Mermail archetype, there has been a significant hole in notable water-oriented archetypes. A majority of archetypes have focused on dark, light, and earth archetypes. I miss the old days where archetypes were equally represented, when you would actually see a variety of archetypes in play. However, I may not have to wait long for water archetypes to return to prominence. With the Mermail monsters already on the rise, Konami seems to be focusing another archetype as well: the Atlantean archetype.
The Atlantean archetype consists of sea-serpent monsters that resemble humanoid fish monsters and, as the name suggests, are the inhabitants of Atlantis. The archetype debuted last October through the structure deck Realm of the Sea Emperor. As of now, the archetype focuses on playing and supporting ace monster Poseidra, the Atlantean Dragon. Poseidra is a phenom with 2800 attack points and 1600 defense. In addition, when it is special summoned, it can return all spell/trap cards on the field and if three or more cards are returned, the opponent's monsters lose 300 attack points for each monster returned.
Konami has started to resume the production of more Atlantean monsters, as the upcoming booster pack Lord of the Tachyon Galaxy contains one, called Tridon, the Antlantean Emperor. Despite years of negligence, water monsters finally seem to be returning to the forefront of Yugioh. It will be interesting to see the status of water monsters in the next few booster packs.