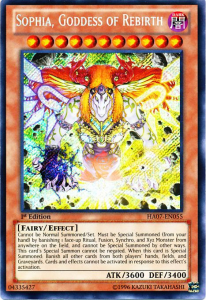 Courtesy of YugiohBlog regular, Victor, I was recently introduced to a new Yugioh card: Sophia, Goddess of Rebirth. I had written a post a few years declaring Yubel, the Ultimate Nightmare as the strongest monster in Yugioh. After reading about Sophia, I am convinced that she is the strongest. It has nothing to do with the fact that Sophia has 3600 attack and 3400, nor does it have anything to do with the fact that she looks like the harbinger of destruction. By her effect alone, Sophia is the strongest monster in Yugioh.
When Sophia is summoned, she banishes all cards from the field, both players' hands and graveyards. In addition, no cards can be activated in response to her effect, which means Forbidden Chalice is useless against Sophia. Basically, Sophia nukes the field, which would allow it to instantly deal 3600 direct damage. Since Sophia forces your foe to discard his/her hand, the odds of drawing a card to take down Sophia is highly unlikely as well. Basically, once you play Sophia, the match becomes a checkmate for your opponent.
The only issue with Sophia is that it can be very difficult to summon. Sophia cannot be summoned except through a special summon, which requires you to banish one Xyz, Synchro, Fusion, and Ritual monster. Sophia's summoning conditions are harsh, but via Dueling Network, I have learned that she is playable in Herald decks. Herald decks focus on bringing out a ritual monster. Summoning Xyz, Synchro, and Fusion monsters isn't that difficult due to Herald's stalling qualities, which allows the user to stack their hand.
I know a lot of people will disagree with me on this, but I am fully convinced that Sophia is the strongest monster in Yugioh. Who would you put as the strongest monster in Yugioh?