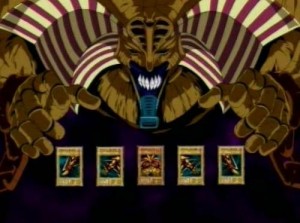 Ever since I first heard about the online dueling site, I have been a frequent duelist on Yugioh Network. I have dueled with my powerful Infernity-World deck, experimented with an Alien deck, and am currently experimenting with a Spell Counter deck. Though all of these decks have been very successful, with the Spell Counter surprisingly doing the best, there is still one, classic deck that I have still not been able to overcome: an Exodia deck.
I know it's not abstruse as to why I am constantly losing against an Exodia deck as Alien and Spell Counter decks are slow, while a solid Exodia deck can be very fast. Even my fast Infernity-World deck was unexpectedly taken down in five turns by my friend's Exodia deck, after some lucky plays. You might think, "Dude, just mill his deck!" That's easier said than done since good Exodia decks usually carry an Exodia Necross, or even worse, an Exodius the Ultimate Forbidden Lord. Exodia Necross is very hard to destroy while Exodius (with good protection) can be lethal!
Every deck, no matter how strong it is, has a weakness. It is a lesson all duelists learn the hard way. Just because I haven't been able to beat a good Exodia deck doesn't other people haven't either. Thus, I ask you my readers, show me your accumen: what type of deck do I need to create to defeat a solid Exodia deck?