Card of the week 6/27/10: Gagagigo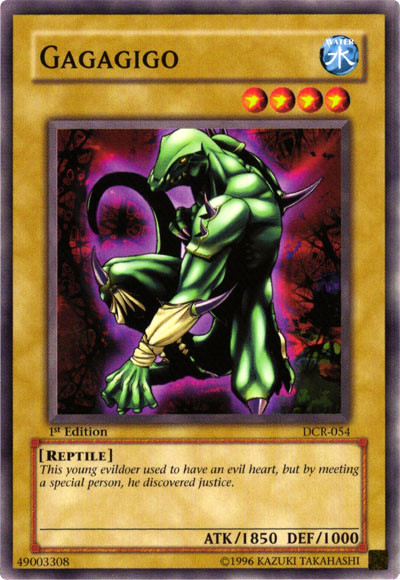 Gagagigo may be an old and forgotten monster, but it was the basis of one of my most popular contests in my blog. Though it doesn't have an effect, Gagagigo still has 1850 attack so it's pretty useful in some decks, especially reptilian decks. Gagagigo's younger self, Gigobyte is one of the best cards to have in a Gravity deck. Because it's a level one monster, it can be affected by Triangle Power thus making it a powerhouse in a Gravity deck. Gagagigo also has older forms known as Giga Gagagigo and Gogiga Gagagigo. Though it might not have a high efficiency rate, it has a lot of history and is a very significant Yugioh monster.
The three card of the weeks have been selected! Gagagigo, Non Aggression Area, and Cosmic Fortress Gol'gar. Out of these three cards, vote for which one you think deserves to be the card of the month!
(Vote on the poll section of the Yugioh Cards Blog)