Card of the week 7/19/10: Dark Creator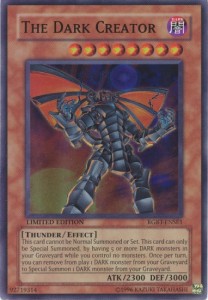 After days of wait, I finally located a local game store that hosted unoffical Yugioh duels on the weekends. Obviously, after having created my new Infernity Dark World deck, I had to go in order to test it out. My results were good, but not as good as I had imagined. I won nine duels, but lost two. My first loss had nothing to do with my foe's deck; I just had a terrible hand. However, the second deck I lost to was actually a pretty nice one. It was similar to the high-leveled beatdown deck that Chris Harbour was describing in his comments. That Yugioh deck consisted of cards that made it easy to pull out strong monsters in order to completely tramp over defenses. It was primarily a dark attribute deck. Some of the cards used was Dark Necrofear, DAD, and Raviel the Lord of Phantasm. However, the card that completely destroyed me was Dark Creator.
Dark Creator is the evil spin-off of the Creator and it can special summon one Dark monster if you remove one from your graveyard. Dark Creator was basically the fascilator of 99% of that duelist's combos. Though I could fend off some of the beatdown monsters, his tough offense made it difficult for me to create a counter-strategy. His most popular combinations were special summoning Dark Nephythys and using its effect to destroy my spells and traps. Dark Creator also allowed him to later special summon Raviel, which was able to easily win him the duel. Though I still didn't have a great hand in this duel, his Dark Creator still did most of the damage to me. His Dark Revival deck, and especially the Dark Creator, earned my respect.