Here is a compare and contrast of two of the earliest, and most synchro monsters in the game: Stardust Dragon and Red Dragon Archfiend. Enjoy!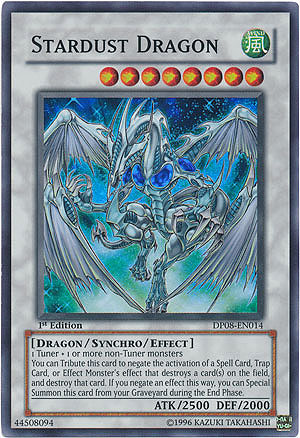 1. Stardust Dragon
Stardust Dragon was one the first card to be created in 3rd generation Yugioh, and thus it was given great power! Stardust Dragon, the grandfather of synchros, has a strong 2500 attack/2000 defense points and a great, defensive effect. Whenever a card destruction effect is activated, Stardust Dragon can sacrifice itself in order to negate the activation of that effect and destroy the card. But wait, it gets better! If Stardust Dragon is destroyed this way, it can be revived from the graveyard at the end of the turn! Not only can Stardust protect you from deadly effects, but you get it back on your field by the end of the turn as well. Stardust Dragon is a powerhouse monster had a great defensive wall too.
Artwork: 5/10, Effect: 8/10, Power: 8/10, Deck Adaptation: 9/10 Game Changer: 9/10, Playability: 9/10. Overall, Stardust Dragon gets a rating of about 8/10 – B-.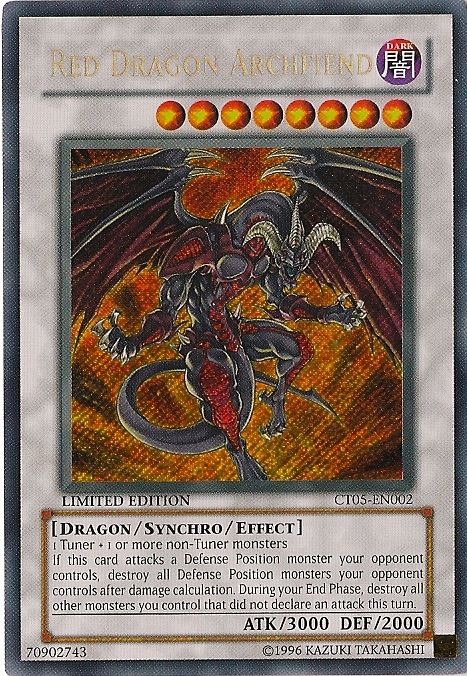 Red Dragon Archfiend
The ultimate rival of Stardust Dragon and the second synchro monster created in 3rd generation Yugioh, Red Dragon Arcfiend packs a ferocious punch with 3000 attack/2000 defense points and a destructive effect. If Red Dragon Archfiend attacks a monster in defense position monster, all other defense position monsters on your foe's side of the field! Red Dragon Archfiend could potentially clear your foe's field of monsters. Red Dragon Archfiend also has really cool artwork; it looks so tough and majestic!
Game Changer: 7/10, Effect: 7/10, Playability: 8/10, Deck Adaptation: 8/10, Artwork: 9/10, Power: 9/10. Overall, Red Dragon Archfiend gets a rating of 8 – B-.
It was a hard decision, however Stardust Dragon wins by nail-pin! Though they had the same score, I felt that Stardust Dragon was the better monster due to it having a better Game Changer ability. They're both very both strong monsters, but again, defense wins matches! And in terms of defense, Stardust completely tops Red Dragon Archfiend.