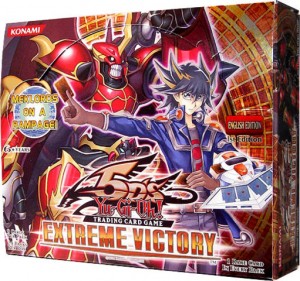 Following the release of the Nordic Gods in the booster pack Storm of Ragnarok, the booster pack Extreme Victory that was released yesterday in TCG has lived well up to expectations. Though its cover monster, Junk Beserker, is not the strongest of monsters, the release of Antinomy's cool Tech Genus cards make Extreme Victory one of the most exciting booster packs in the series. Let's not forget that this pack also debuts Life Stream Dragon, a.k.a the "6th dragon", as well as Aporia's beast Meklord Astro Dragon Asterisk.
The Tech Genus monsters are really powerful when played correctly, as you can tell from the way that Antinomy really beat down Yusei when they dueled. Though not all of the Tech Genus monsters and support cards have been released in this pack, this archetype still has the potential really strong. The two crucial monsters that were released in this pack were the accel synchro monster T.G. Blade Blaster and the delta accel synchro monster T.G. Haldberd Cannon. Both monsters have great stats with 3300 attack and 2200 defense points a piece, but they have stellar effects as well (Blade Blaster, Haldberd Cannon). The  Tech Genus monsters are going to be a force to be reckoned with as long as those cards aren't banned!
Besides the T.G. monsters, the debut of Life Stream Dragon is very exhilarating as well. I was in awe when I heard that Life Stream Dragon had been revealed for its image had been online for ages, but once Blackwing Dragon had been introduced, I figured that was the end of Life Stream Dragon. When Life Stream Dragon is summoned, you have the option to make your life points 4000, which can be a huge game changer. Plus, any effect damage you take becomes zero and if Life Stream Dragon gets destroyed, you can remove an equip spell instead. All these monsters and new releases makes Extreme Victory a pack worth getting!