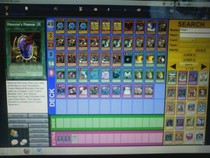 Yugioh Dueling Network is essentially the same the thing as Yugioh Network in the sense that they are both dueling sites. However, Dueling Network is a much superior site: it is faster, the graphics are superior, and its brighter colors make the dueling experience much more interesting. Here are some aspects of Dueling Network that are better/worse than Yugioh Network:
The Good:
Like I mentioned above, Dueling Network has a much better color scheme. Plus, the graphics are better and as a result, you are more inclined to duel. Unlike Yugioh Network, Dueling Network does not have a lot of foreigners, so it's easier to relay messages to your opponents (who are predominately speak English).
The Bad:
It is so hard to find a duel slot! This is especially true if your rank is higher, as lower ranking opponent's will try stay clear from your path. The only quick way to find a duel is to host your own, which still takes about five-ten minutes.
I strongly recommend you guys to get an account and when you do, add me as a friend: spanther96. To watch a Dueling Network video, you can either go watch this duel between a Herald deck and a Elemental Hero deck or between a X-Saber deck and a Six Samurai deck.